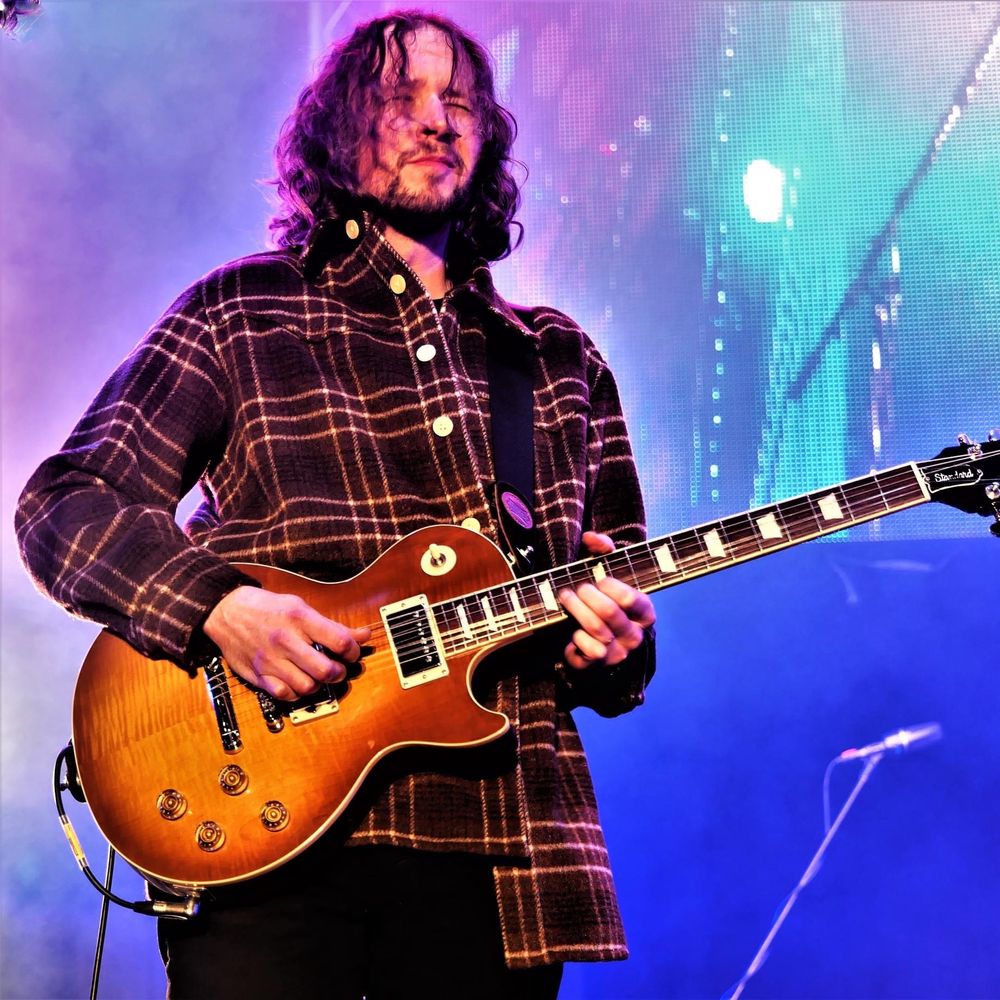 Biography
Adam Sweet delivers brooding blues and rollicking rootsy rock, balancing richly detailed song writing with soulful vocals and expertly piercing guitar work.
Taking his cue from the British blues boom sounds and rock riffs of the 60s and 70s, the independent blues-rock guitarist and singer-songwriter has carved out his own territory between classic rock, blues and Americana. Since first taking to the live scene in the South West of England at the age of 15 he has worked in various guises: solo acoustic, session player and with his own bands. The result is a consummate ability to switch from sensitive singer-songwriter to full-on blues rocker with ease, as demonstrated in his countless live performances and his output as a recording artist.
Sonically, Adam is a guitar-slidin' force of nature whose songs can fill a hall with their effortless verve. Ranging from quietly desperate blues tunes to careening full-tilt rock, his approach is a testament to the idea that less can, in fact, be considerably more. A young bluesman with an ancient soul and a large presence in the here-and-now. 

Adam first picked up a guitar aged seven but until his early teens his interest was just smouldering, during which time a brief foray into classical guitar failed to provide the spark of inspiration he needed. Things began to change when at thirteen he started private tuition with Adrian John Loveridge, a veteran of the 1980's Californian music scene who had just moved back to his hometown of Lyme Regis, Dorset. Guitar lessons suddenly got a lot cooler with tales of 'life on the road' in a far-off land, told in an American accent and Adrian's gold record gleaming on the wall. The breakthrough came when Adam's new mentor took him to see blues-rock band The Hamsters at Lyme's Marine Theatre. Adam left his first ever gig with Jimi Hendrix riffs ringing in his ears and by age fifteen he was gigging regularly on the local circuit recreating the music of his newfound guitar heroes. 
Since those early days of playing in numerous bands he honed his craft and found his voice, and with well over 1,500 gigs under his belt is now successfully carving out a solo career…
His acclaimed debut album 'Small Town Thinking', recorded both in Devon and Nashville, was released at the start of 2014. The album steadily gathered approval with Adam's "timeless" gift earning him rave reviews including a full 5-star rating and Album of the Month award in Guitar Techniques Magazine, praising the album for offering a "whole new perspective on the (blues) genre". 
Adam's 2017 follow up 'Take Your Time' was a stripped back acoustic offering that perfectly captured the essence of his renowned one-man shows. The 5-track EP was produced and performed solely by Adam and featured a track written with founder member of Level 42 Boon Gould. Tracks from this release featured heavily on BBC Introducing and received several accolades - "Wonderful rock, blues and roots guitar and very classy arrangements" (Album of the Week, Laurel Canyon Music). 
In 2020 Adam marked his evolution into a fully-fledged blues-rock artist with the release of his second studio album 'Sink or Swim', cementing his own unique blend of blue-eyed blues and soulful southern rock. Adam's sound developed from working closely with band members Ian Jennings on bass (Jeff Beck, Robert Plant, Ronnie Wood, Mick Fleetwood) and Garry Kroll on drums (Mark Ronson, Joss Stone, Sandi Thom). Recorded with producer Josiah J Manning (Kris Barras Band) at Momentum Studios, Plymouth, the album captured the raw energy and excitement of the band whilst always serving the richly detailed song writing. 'Sink or Swim' received extensive radio play spending two months in the Independent Blues Broadcasters Association Top 40 chart and was listed in the Top 3 Breakthrough Albums of 2020 by 'Get Ready To ROCK' and included in the Best Americana Albums of 2020 by Dutch music blogger 'Slim Chance'.
In July 2021 Adam released a new single 'Dead Flowers' – this cover of the Rolling Stones country-rock classic became a firm favourite during the lockdown livestreams Adam was broadcasting from home during the pandemic. By popular request he recorded the song, which also marked 50 years since the release of the original. The new single stays true to Adam's acoustic lockdown version, with his band providing the rhythm section plus vocal harmonies by Alex Hart. The track was recorded, produced and mixed by Adam at home whilst he and his band waited to get back out on the road.
2022 saw Adam finally getting back out there with his band with performances at the Broadstairs Blues Bash, Boarhunt Blues Club, Saltburn Blues Club, Jazz Jurassica and more. They played two nights at the Exeter Phoenix in March 2022 opening for the Kris Barras Band as part of their UK tour, and in November returned to the Exeter Phoenix playing a triumphant set opening for prog-rock legends Wishbone Ash.
Adam Sweet and his band couldn't have got their 2023 off to a better start. On Saturday 14th January they performed at The Great British Rock and Blues Festival and came away as winners of the Introducing Stage, as voted for by the capacity crowd at the Skyline Pavilion in Skegness! With the addition of his old friend Paddy Blight on bass and new recruit Thomas Hughes on keys, Adam and his band are fired up and raring to go with more shows and new music coming soon!...